MATOX 650F – filler compound for mineral surfaces/narrow cracks repair
---
ATOX 650F is specially designed paste for filling tiny cracks on interior and exterior mineral surfaces(mortar, concrete and other mineral surfaces). MATOX 650F is enriched with fungicites and algicides for total surface protection. It is waterrepelant and waterproof. It is suitable for "spiderweb" cracks and other cracks of up to 1mm in thickness.
---
Preparation
Before applying stir the readymade mix well.
Applications
The ready mix should be applied on the surface with a rubber applicator or a steel trowel. Workability of MATOX 650F is over 60 minutes. The surface will be totally dry 24 hours after application.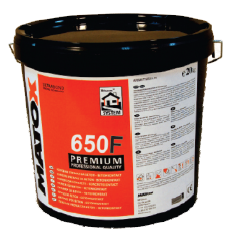 Specifications
Obradivost/Workability: > 60 min.
Potrošnja/Coverage: 0,2 kg/m²
Mešanje/Mixing ratio: /
Pukotine/Cracks: < 1mm Pakovanje/Packaging: 20kg, 5kg kanta / can Skladištenje/Storage: 12 meseci / 12 months
Tip
The surface will be totaly dry 24 hours after application.